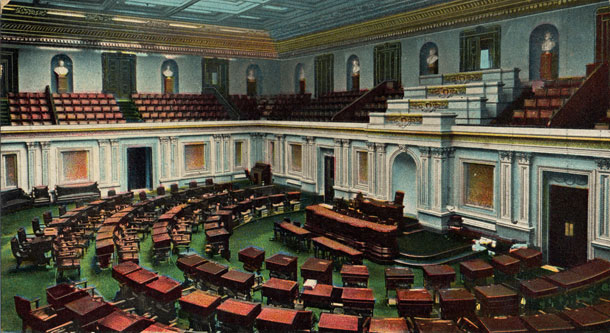 Objective News Report will continuously compile data into a comprehensive 2016 Senate Elections Prediction map. Senate predictions made by Objective News Report will be made using 2016 Senate polls, state demographic data, historical voting records, Senate race funding, and a few other factors. These predictions are not endorsements.
2016 Senate Elections Prediction Map
Last updated on November 3, 2016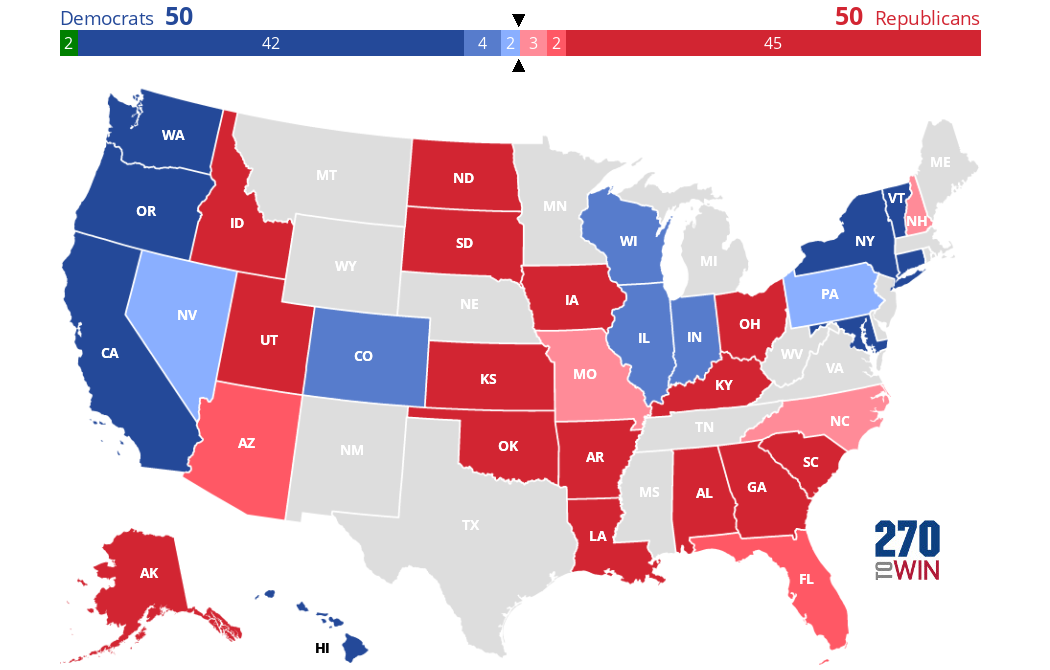 Click the map to create your own at
270toWin.com
Race by Race 2016 Senate Election Analysis:
On ONR's associated YouTube channel, Pedestrian Predictor, I will be doing more in depth analyses on some of the 2016 Senate battleground elections. Click the link of the Senate race you are interested in learning more about:
Arizona: Ann Kirkpatrick (D) vs. John McCain (R)*
Florida: Marco Rubio (R)* vs. Patrick Murphy (D)
Illinois: Mark Kirk (R)* vs. Tammy Duckworth (D)
Indiana: Evan Bayh (D) vs. Todd Young (R)
Iowa: Chuck Grassley (R)* vs. Patti Judge (D)
Kentucky: Jim Gray (D) vs. Rand Paul (R)*
Missouri: Jason Kander (D) vs. Roy Blunt (R)*
New Hampshire: Kelly Ayotte (R)* vs. Maggie Hassan (D)
Pennsylvania: Katie McGinty (D) vs. Pat Toomey (R)*
Nevada: Catherine Cortez Masto (D) vs. Joe Heck (R)
North Carolina: Deborah Ross (D) vs. Richard Burr (R)*
Ohio: Rob Portman (R)* vs. Ted Strickland (D)
Wisconsin: Russ Feingold (D) vs. Ron Johnson (R)*
* indicates the incumbent candidate
The Million Dollar Question: Will the Democrats Win the Senate?
One of the more overlooked implications of this election is which major party will take the Senate. The Senate currently has a Republican majority, but there is a decent chance of the Democrats taking control. ONR's current Senate elections prediction shows the Republicans maintaining a very narrow majority; however, the toss-up state of many Senate races demonstrates that the Democrats have a legitimate shot of winning the Senate. If just two of our predictions in Republican-leaning battleground states turn out to be wrong, the Democrats will win the Senate. On election night, watch closely the results in Pennsylvania, New Hampshire, North Carolina, and Missouri. The Democratic Party candidate in each of these states has a legitimate shot of winning and could arguably be considered the favorite to win. However, it's also important to note that the Democratic-leaning battleground Senate races in Illinois and Indiana could go red, which would secure a Republican majority.
Why Does This Map Heavily Favor Incumbent Candidates?
You may have noticed that the majority of these predictions have the incumbent candidate winning. Incumbent Senate candidates have an extremely high rate of reelection. In fact, the Senate reelection rate has not dropped below 75% since 1980. This high reelection rate can be attributed mostly to relatively high name recognition and a greater amount of funding.
Other Notes: 
If the Democrats win the Senate, former Presidential candidate and progressive icon Bernie Sanders will become the Senate Budget Committee Chairperson.
The winner of the Nevada Senate race will be filling Harry Reid's (D) vacant seat; therefore, there is no incumbent.

In California, two Democrats are running against each other; hence the state is safe Democrat.

Louisiana does not have a conventional primary and general election to elect its Senators. All successfully filed candidates run in the Senate election. If any one candidate receives 50% or more of the vote, that candidate wins outright. If no candidate reaches the 50% threshold, a run-off election will be held on December 10, 2016.