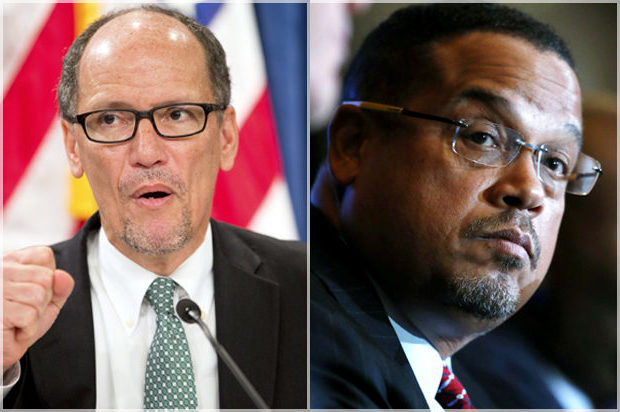 Following crushing defeats in November, many Democrats have emerged as candidates for DNC Chair. The Democratic National Committee is looking to replace the disgraced Interim Chair Donna Brazile. Brazile took over for Debbie Wasserman-Schultz, who was forced to step down amid accusations that the Democratic primary was not conducted fairly. Now more than ever, the Democratic Party is in need of strong leadership. Here are the candidates currently in the running for DNC Chair.
Keith Ellison
Keith Ellison's bid for DNC Chair started off with a bang: an endorsement from Bernie Sanders. Sanders made no secret of his support for Ellison:
The next DNC chair must understand the dire need to listen to working families. Keith Ellison is that person. https://t.co/xoR7JSWn6R

— Bernie Sanders (@BernieSanders) November 11, 2016
Ellison is a House Representative from Minnesota and was on of the few Democrats to endorse Bernie Sanders during the Democratic primary. Ellison, the first Muslim to be elected to the United States Congress, also has the backing of Harry Reid, Chuck Schumer, and Elizabeth Warren.
Ellison officially announced his run on Monday November 14th. In his announcement, Ellison stated, "I will work tirelessly to make the Democratic Party an organization that brings us together and advances an agenda that improves people's lives." Ellison's candidacy clearly represents the growing Progressive movement within the Democratic Party.
Tom Perez
Tom Perez, Secretary of Labor for the Obama Administration since 2013, announced his interest in running for DNC Chair on Twitter.
Okay, I'm in. I'm running for @TheDemocrats Chair to strengthen our party from the ground up. https://t.co/BnuoHwrKWe

— Tom Perez (@TomPerez) December 15, 2016
Like Dean, Perez is a popular option among the establishment wing of the Democratic Party. Perez has been endorsed by Governors Terry McAuliffe (VA), John Bel Edwards (LA), Gina Raimondo (RI), John Hickenlooper (CO), and Tom Wolf (PA).
Before serving as Secretary of Labor, Perez was Assistant Attorney General and the Secretary of Labor for the state of Maryland.
Howard Dean
Howard Dean emerged as an early contender for DNC Chair. Dean is the former Governor of Vermont and ran a failed Presidential bid in 2004. More importantly, Dean was the DNC Chair from 2005 to 2009, where the Democrats saw massive gains in the down-ballot elections (as well as a landslide Presidential victory in 2008). Dean's success as DNC Chair can be attributed to his fifty-state strategy, where the Democratic Party put resources into states that Democrats have little presence, hoping to raise awareness for the party in an attempt to have successful elections in the future. Using this strategy, Barack Obama was able to win the states of Indiana, Virginia, and North Carolina, states that a Democratic candidate had not won in forty years.
Dean made his ambitions public on Twitter, stating:
The dems need organization and focus on the young. Need a fifty State strategy and tech rehab. I am in for chairman again.

— Howard Dean (@GovHowardDean) November 10, 2016
Though Dean has a strong resume, he has received increasing scrutiny in the contentious 2016 election. Dean is now a lobbyist for a health care firm. Dean has received a lot of criticism from the progressive wing of the Democratic Party for changing his position on universal healthcare. Dean was also criticized by progressives for throwing his superdelegates support behind Hillary Clinton, despite Bernie Sanders's overwhelming victory in Dean's home state of Vermont. On Twitter, Dean said:
@D_Born @BernieSanders Super delegates don't "represent people" I'm not elected by anyone. I'll do what I think is right for the country

— Howard Dean (@GovHowardDean) March 5, 2016
No one can deny Dean's impressive resume, but he may not be the man progressives want as the new leader of the DNC. Fortunately for them, there's another candidate running for the position.
Peter Buttigieg
Peter Buttigieg, considered to be the "dark horse" of DNC Chair candidates, is a late entry to the race. Buttigieg, the Mayor of South Bend, Indiana, believes that the Democratic Party needs to find a way to bridge the gap between the moderates and progressives within the Democratic Party.
For the time being, it doesn't seem like Buttigieg will gain much traction in the race. The Mayor has less name recognition than the other major DNC Chair candidates and it's relatively unknown where he stands on the issues facing the Democratic Party. Like Martin O'Malley (who we'll get to in just a moment), Buttigieg seems to be in political purgatory. He's not the first choice of progressives or moderates, and it's unlikely that his message will be powerful enough to unify the Democratic Party.
Martin O'Malley
Martin O'Malley, the third place finisher in the Democratic primary, announced his interest in running for DNC Chair. On Twitter, O'Malley stated that he is taking a "hard look" at running for the position.
I'm taking a hard look at DNC Chair because I know how badly we need to reform our nominating process, articulate a bold progressive (2/3)

— Martin O'Malley (@MartinOMalley) November 11, 2016
Just like in the primary, O'Malley is in a peculiar position. He does not have the experience of Howard Dean or Tom Perez, nor does he have the unyielding support from Progressives as Ellison does.
The elections for DNC Chair take place between February 23 – 26, 2017.