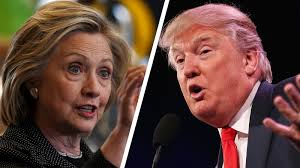 In T-minus 12 hours, the polls will open in my home state of Michigan, and I'll be there right as they open to cast my ballot. The ballot this year is almost 18 inches long, and completely filled on both sides. Needless to say I'm voting for quite a few people. Some will win, some will lose, but even in spite of everything that's transpired in this election, I'm still beaming with a certain kind of patriotism about tomorrow. It's about the fact that I get to vote.
The 58th Presidential election has been one of the most outrageous and unpredictable elections this country has seen. Nobody knew the kind of chaos that would transpire these past 18 months. While many across this nation are breathing a sigh of relief that it's almost over, that tomorrow this nightmare ends, I'm actually feeling pride.
It may sound corny or canned or what-have-you, but I'm proud and grateful that I finally get to vote in a Presidential election. I'm 21 years old meaning I missed voting in 2012 by four months. This is a vote you and I get to cast because of the ultimate sacrifice made by thousands of former British subjects between 1775 and 1783.
Tomorrow I will cast my ballot for the first female president. Obviously I'm not voting for Hillary Clinton simply because of her gender, but the amount of historic importance this moment has cannot be denied. Less than 100 years ago, women won the right to vote nationwide. To put that in perspective, my grandmother who cast her absentee ballot for Mrs. Clinton last week was born just 11 years after women could vote.
As I write this column today, November 7, 2016, today is the 100th anniversary of the election of the first woman to the United States House of Representatives. On November 7, 1916, Jeannette Rankin was elected to represent one of Montana's at-large Congressional Districts, four years before women could vote nationally. After the Montana legislature drew two separate districts, Rankin, a Republican, found herself drawn into a heavily Democratic district and decided against running for re-election. Rankin eventually ran for and served one more term in the House from 1941-1943.
At the end of the day, I'm so proud and grateful to have a say in my government, because there are plenty of nations on this earth where the citizens aren't that lucky. I'd feel the same way had I been born 50 miles southwest of here in Windsor, Ontario and was casting a ballot in last fall's Parliamentary elections.
This election may have exposed many of America's flaws, some of them uglier than others, but my idea of patriotism is wanting what's best for the nation and working through these issues, just as we always have. From slavery to segregation to women's suffrage, we've always faced hard choices as a people, and the American people have always made the right choice eventually. I have confidence that this election won't be any different.