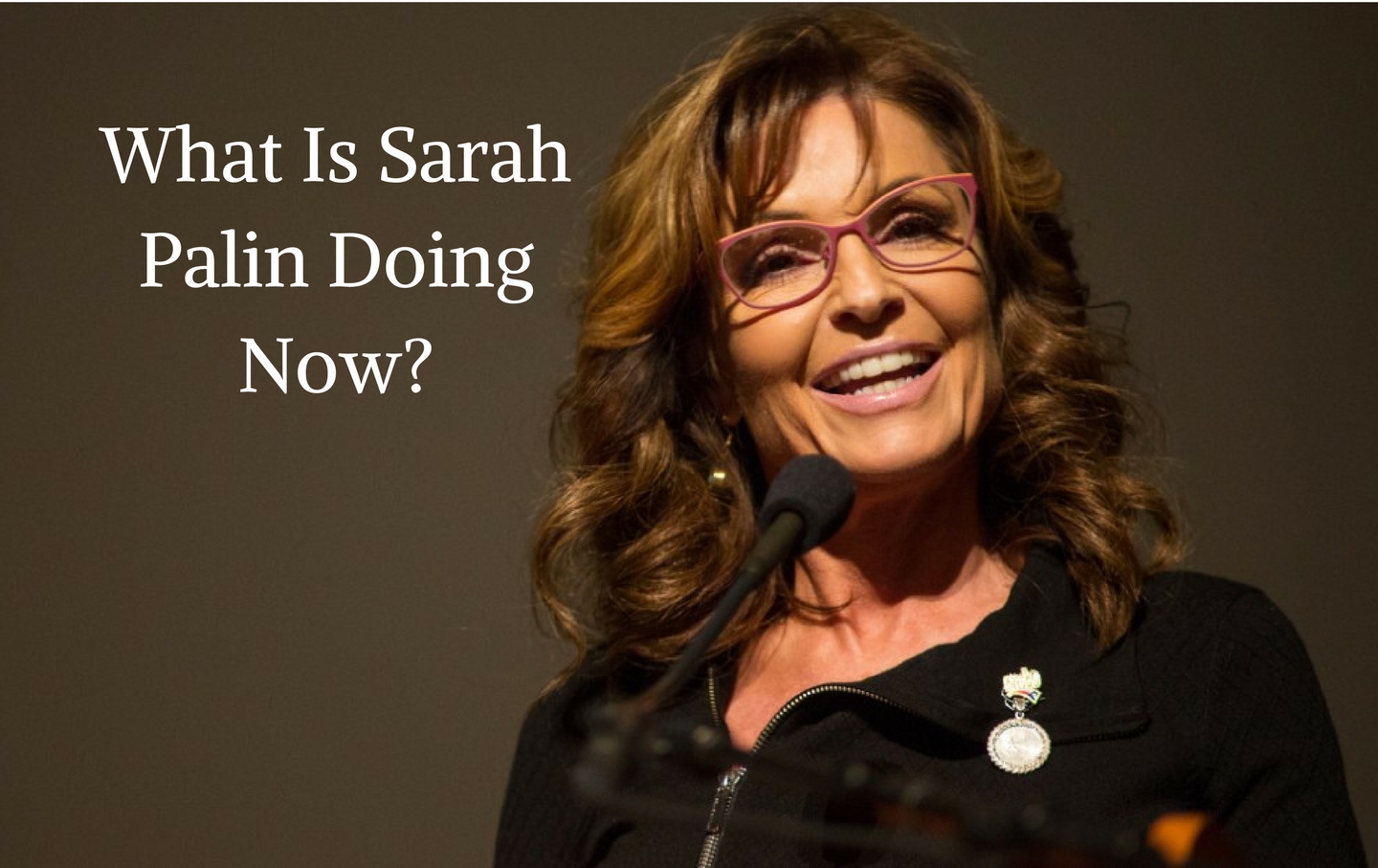 For awhile, Sarah Palin was one of the more controversial political figures in the United States. The former Governor of Alaska and Vice Presidential nominee was an icon of the Tea Party movement, praised for charisma, but ridiculed for her less intelligent statements. But now, it seems as though she has faded into obscurity. In this article, I'll answer the question — what is Sarah Palin doing these days?
The Latest: Sarah Palin Suing New York Times
On June 28, 2017, it was announced that Sarah Palin is suing The New York Times for defamation. Palin, who is seeking approximately $75,000 in damages, claims that a recent opinion-piece published in The New York Times knowingly, intentionally, and falsely linked a Palin SuperPAC to a 2011 shooting.
The New York Times acknowledged the error on Twitter and edited the article accordingly.
We're sorry about this and we appreciate that our readers called us on the mistake. We've corrected the editorial. https://t.co/t1FZ3iEYQJ pic.twitter.com/k7WW5uJIQO

— New York Times Opinion (@nytopinion) June 15, 2017
Palin Endorses Tanner Ainge In Utah Special Election
Sarah Palin endorsed Tanner Ainge in the Utah Special Election to fill the seat of Jason Chaffetz. Ainge lost the Republican primary to John Curtis, who received 42.6% of the vote.
What is Sarah Palin Doing Now In Contemporary Politics?
Although she's out of elected office, Sarah Palin has been vocal in attacking major players in the political arena. Palin expressed her belief that FBI Director James Comey is closely tied to the Clinton Foundation and failed to disclose that relationship during the FBI investigation into Hillary Clinton's private email server. The relationship between Comey and the Clinton Foundation is dubious at best and does not change the fact that the FBI did not have enough evidence to indict Hillary Clinton.
More recently, Sarah Palin attacked Senator Elizabeth Warren (D-MA) for allegedly stealing the phrase "fight like a girl," which Warren tweeted out as a caption to a picture of herself standing next to the "Fearless Girl" statue in New York. Although Palin did not coin the phrase, she did use it in a 2011 speech in Madison, Wisconsin.
Sarah Palin In The White House
No, Sarah Palin does not have a role in Trump's Administration. However, on April 20, 2017, Palin visited the White House alongside Kid Rock and Ted Nugent. The group wasn't there on official business, but just to take a tour.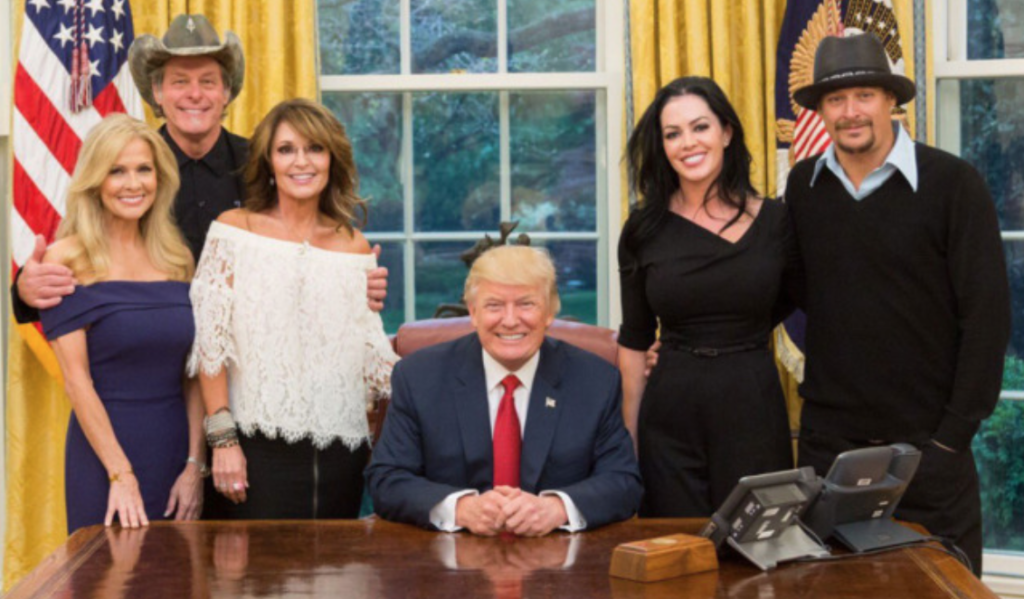 Sarah Palin & The 2016 Election
Sarah Palin got on board with the Trump campaign very early in the 2016 election. So early, in fact, that she endorsed Trump before the Iowa caucuses and was considered one of his most high-profile endorsements at the time. During the election, Palin stuck with Trump through thick and thin, even after the leaked audio of Trump making lewd comments about women. Even on the eve of the election, Palin was campaigning for Trump.
However, Palin has been a bit more critical since Trump was elected. In an op-ed published on Young Conservatives, Palin criticized the Trump-Carrier deal which brought some manufacturing jobs back to the states, calling it "crony capitalism."
Sarah Palin: Politician Or Television Star?
Well, Sarah Palin has been a little bit — or a lot — of both. Ultimately, if you ask what is Sarah Palin doing these days, you'll get a lot of answers. From Political Action Committees and campaign endorsements to guest spots on Fox News and a record breaking television series on TLC, Palin has been doing a lot since her VP nomination.
SarahPAC
Today, Sarah Palin is mostly focused on managing and raising money for her Political Action Campaign known as SarahPAC. Palin created SarahPAC in 2009 after she resigned as Governor of Alaska. SarahPAC endorsed and funded dozens of candidates in 2016, spending over $2,000,000.
According to SarahPAC's About page, the Political Action Committee is "dedicated to building America's future by supporting fresh ideas and candidates who share our vision for reform and innovation."
Sarah Palin On Television
Palin was an on-again, off-again commentator on various Fox News programs. Palin began her Fox News career with an appearance on Glenn Beck's new program back in January 2009. Palin went on to appear many times on Fox News, before being let go in 2015.
In 2010, Palin had her own reality TV series on TLC called Sarah Palin's Alaska. The show ran for one season, breaking a channel record for premiere episode viewership.
What Is Sarah Palin Doing These Days? A Summary
Palin has been busy on television and on the campaign trail. Her Political Action Committee has raised millions, and her television spots have been viewed by millions.
Interestingly, Palin's career arc has been similar to Donald Trump's, but in reverse. Trump was a politically active, reality television star who made his way to elected office. Palin was an elected official who has used her status to get her own reality TV show while remaining a prominent political activist.
Check out this article on Front Page Politics for more information on what Sarah Palin is doing now.
---
Objective News Report does not endorse, nor support Sarah Palin or SarahPAC.