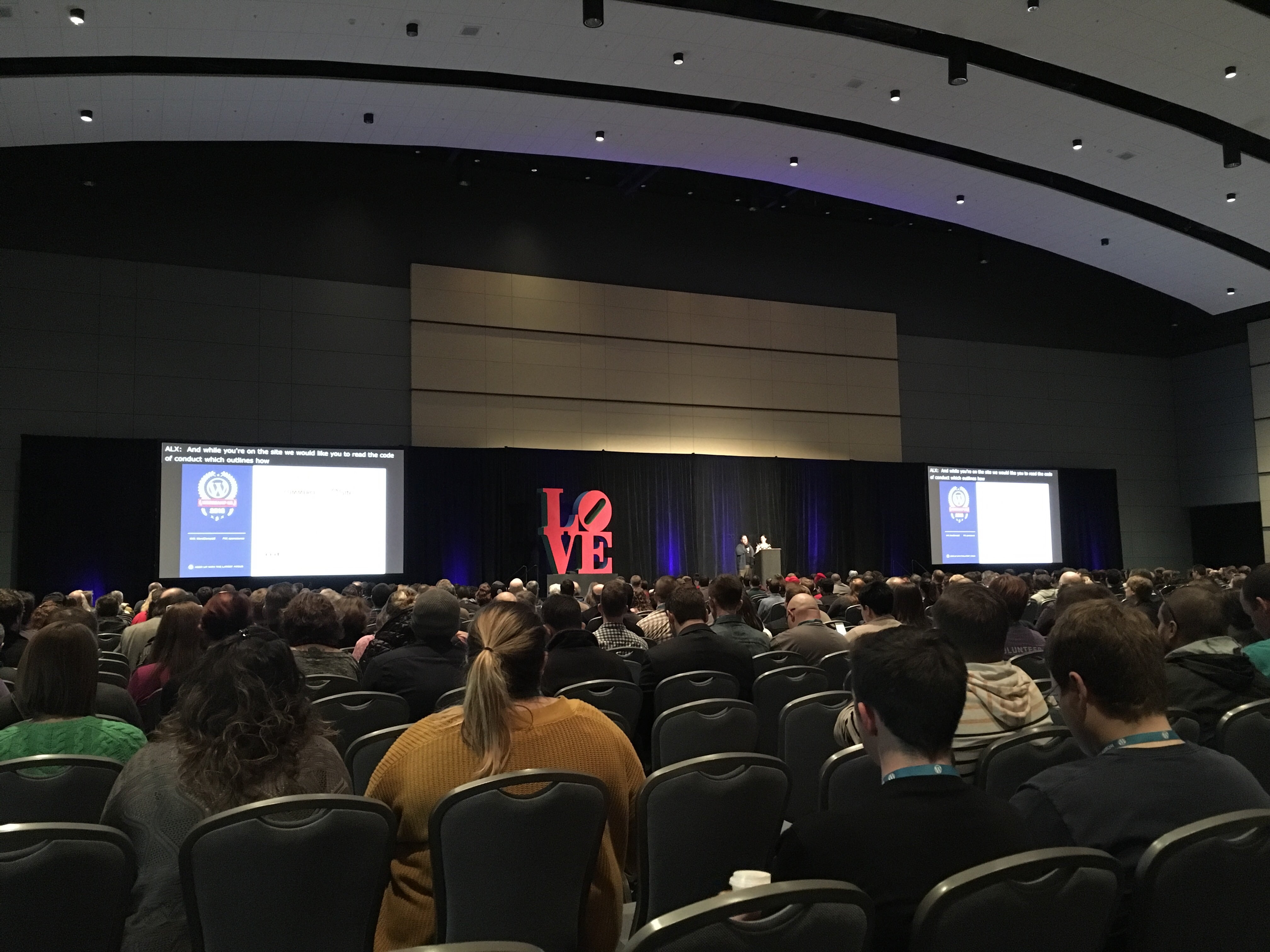 WordCamp US Summary: Thoughts On My First WordPress Conference
Editorial
December 9, 2016,
0 Comment
WordCamp US 2016 took place this past weekend in the historic city of Philadelphia. After listening to many informative speakers and meeting many brilliant people, I can safely say that this conference was a career-shaping event. For anyone wondering what the conference entails, here is my WordCamp US summary.
The Smallest Fish In A Large Pond
Let me begin by saying this — I was possibly the least experienced WordPress user at WordCamp US 2016. After using the platform for only a meager two months, it was a bit intimidating to meet some of the titans of the WordPress industry. It is a pretty surreal feeling to know that you are surrounded by thousands of people who are more experienced, successful, wealthy than you are. But rather than succumb to the intimidation, I decided to use my time wisely.
I, and every other WordPress user, have the ability to be the next titan of the industry. The proof was at WordCamp US 2016. Here I was, surrounded by people who are more experienced, successful, and wealthy than I am. Why not take their advice and learn from their experiences?
It Helps To Have A Friend
My WordCamp US summary would not be complete without mentioning how grateful I was to be accompanied by my friend, Dave P. When he extended the invitation to go with him, I immediately accepted. I was fortunate that I could go with someone so knowledgeable, someone who could introduce me to the more established WordPress crowd.
I also benefitted from the fact that he refused to hold my hand throughout the conference. Though we traveled together with similar goals in mind, it was imperative that I did not stand in his shadow for the duration of WordCamp US 2016. I am grateful he pushed to be independent because it allowed me to grow as individual while accomplishing our common goals.
My WordCamp US Summary: From Day 1 To The After-Party
Day 1
There are really only three things to do at WordCamp US: get swag, network, and listen to speakers deliver a fifteen-thirty minute presentations. Like most of my fellow conference-goers, I immediately collected as much free stuff as I could. I made off like a bandit, receiving a tote bag full of free shirts, pens, and other WordPress accessories.
The first speaker I was really interested in seeing was Andrea Zoellner, who gave a presentation titled Five Newsroom Tips for Better Website Content. As a content creator who enjoys writing about the news, I simply could not miss this talk. I was not disappointed. Andrea Zoellner's talk was a great balance of entertaining and informative.
Following a quick lunch from a downtown Philadelphia food stand, I headed to hear Topher DeRosia, the founder of HeroPress, a website dedicated to publishing essays from "people who have overcome barriers which previously kept them on the periphery." My main takeaway was this: WordPress gives us the ability to reach all ends of the earth and gives a voice to the voiceless. The work Topher DeRosia does with HeroPress is perhaps the most valuable content published using WordPress. I urge everyone who read this far to stop for a moment and read some of the stories published on HeroPress.
By this point at WordCamp US 2016, I was still fairly reserved. I had met some interesting people, interacted with some of the speakers on Twitter, but I had yet to have a personal, breakthrough moment. That changed during Troy Dean's talk titled Online Education Communities with WordPress. As someone who is looking to branch into the online course market, I could not get enough of Troy Dean's talk. After his fifteen minutes were up, I had still had questions.
Troy Dean was the first speaker I had the courage to approach as a peer. Though it was brief, I cannot overstate how pivotal our discussion was for me and my WordCamp US experience. Troy Dean did not just give me great information on how to design an online course. He gave me a valuable memory that will last a lifetime.
Day 2
The second day of WordCamp US 2016 got off to a slow start. Dave P. and I decided to rest in the morning and stream the WordCamp events while eating breakfast and discussing notes. We decided to head to WordCamp US around noon so we could catch Maile Ohye deliver a presentation titled A view from Google: The latest in Search and mobile. If you missed it, here's the main takeaway from Maile Ohye's presentation: billions of people are about to get access to the internet for the first time, and most of them will be accessing the web from a mobile device. Developers beware: make sure your sites are very mobile-friendly!
The main events of Day 2 came to a close with the State Of The Word, a wrap up of all the progress WordPress has made throughout the year and what the future holds. Matt Mullenweg made it clear: the future of WordPress is bright. After all, WordPress powers 27% of the internet, making it an dominant organization that will surely increase its influence on the web.
The After Party
Although there were no speakers, WordCamp US 2016 carried on a the after party at the Academy of Natural Sciences of Drexel University. I spent most of the night at this museum's main attraction — the dinosaur exhibit. There, I met many interesting WordPress users, as well as two brilliant museum employees, who had an answer for every dinosaur-related question I threw at them.
One of my biggest takeaways from WordCamp US is this: WordPress users love science, especially fossils and dinosaurs. WordPress users also seem enjoy talking about pseudoscience. I got into long conversations about the existence of many cryptids including Bigfoot, the Yeti, mermaids, and Megalodon.
The night got a little meta when I talked to Raquel L. about networking at an event where the main goal is to network. If you are an introvert like me, you may have trouble reaching out to others, even in such a social setting. Here's the advice she gave to me, which I would like to pass onto you:
Ask people questions.
It's really that simple. Ask others who they are, what they do, and why they do it. At the very least, you both use WordPress, so you will always have that in common with whoever you talk to.
Wrapping It Up: Why You Should Attend WordCamp US
WordCamp US is a unique experience where you can meet wonderful people, form lasting friendships, and learn how to improve your WordPress skills. At WordCamp, you have direct access to people who are probably a lot more wealthy and successful than you are. Don't let that opportunity pass by. I hope you enjoyed my WordCamp US summary and I look forward to seeing my fellow WordPress users there in 2017!